'I have a dream of owning my own tailor shop when I go back to Mwakitolyo….I will open my own tailoring shop and employ other people, especially young girls - who are currently involved in different small and dangerous activities - to work in my shop.'
Mwamvua Ramadhani, vocational training student, 2018
Donation


With your support, we can give a child, working in a gold mine, a future and life. Your donation is fully and directly used to make these children become independent and to live in a safer and healthier environment for a better future.

Our foundation has the Dutch ANBI stichting status. For more information about the advantages for donations, please see here.

Donation Programme 2020/21

We continue our goal to fund children currently working in gold mines by offering them a one-year vocational training that helps them to start their own business back in their village.

The needs per child is appr. 750€ for the training period of one year (including school fee, insurance, uniform, school and other basic materials as well as start-up material after they finished).

The donations this year will be therefore implemented for:
- Another group of 10 students to start a vocational training next year.
- Tools needed for start-up (so far electrical and tailoring equipment)
- To cover the costs for a part-time socialworker of the local NGO Rafik SDO who works for us on the implementation of the programme. She selects the children and discusses with the families, visits them while they are in the school programme, writes reports and monitors the project for us.
- If we can raise enough funds, we also want to support a second year vocational training to some of the children, those showing most commitment and motivation. A second year helps them to have a national certificate and to find a job and will give them a more profound knowledge that they can later on pass to the ones with only one year of training.

You can support by:
- Donating any amount supporting the project in favour of below bank details.
- Purchasing a bracelet or recycled gold and iron ring, designed by Antoinette Vonder Muehll. You can find more information here. The full amount of these purchases will go to our project. (Please note that the purchase of an object is not deductible from taxes).


Donations can be made to:

Triodos Bank
Stichting For Iron I Gave Gold
Haarlemmermeerstraat 90-2
1058 KD Amsterdam


The Netherlands


IBAN: NL28 TRIO 0379 3364 64
SWIFT/BIC: TRIONL2U

We are very thankful for your support!


tailoring workshop for the students who graduated from vocational training programme 2019.

Donation Programme 2019/20

We are excited to announce that thanks to generous donations and through purchases of the rings, we have been able to collect till end of December enough funds needed for another group of 10 students to start in January 2020 their vocational training. Also we could cover a part-time social worker of the local tanzanian NGO Rafiki-SDO. The person will be responsible for the implementation of the programme. She selects the children and discusses with the families, to regularly visit them while they are in the school programme, to write reports and to monitor the project for us.



Children selected for the 2020 programme on their way to College. In total 7 girls, Anitha, Naomi, Margreth,Joyce, Suzana,Justina and Dotto and 3 boys - Efrend, Francis and Daud will follow the training programme in tailoring, electrical installation and masonry at Mwanhala College, Tanzania.

Donation Programme 2018/19

The donation programme ended last December and thanks to the great support, 10 children (14 - 17 years old) working in the gold mines Kalole or Nyangarata near Kahama, Tanzania, are currently in the one-year vocational training at Mwanhala Focal Development College from January - December 2019. They could chose a profession that is locally needed (such as tailoring (for girls), electricity, motor vehicle mechanics, masonry) enabling them to sustain and live under better conditions instead of being exposed to the extremely poor, exploitative, dangerous and unheathy life in the gold mines. There were 8 girls and 2 boys taking the tailoring course.

The donations went fully and directly to the children's needs, including: school fees, uniforms, school material and/or start up tools (f.ex. sewing machine), food and accommodation during their stay at the College. This is monitored and coordinated locally by the NGO Rafiki SDO (see Collaborations).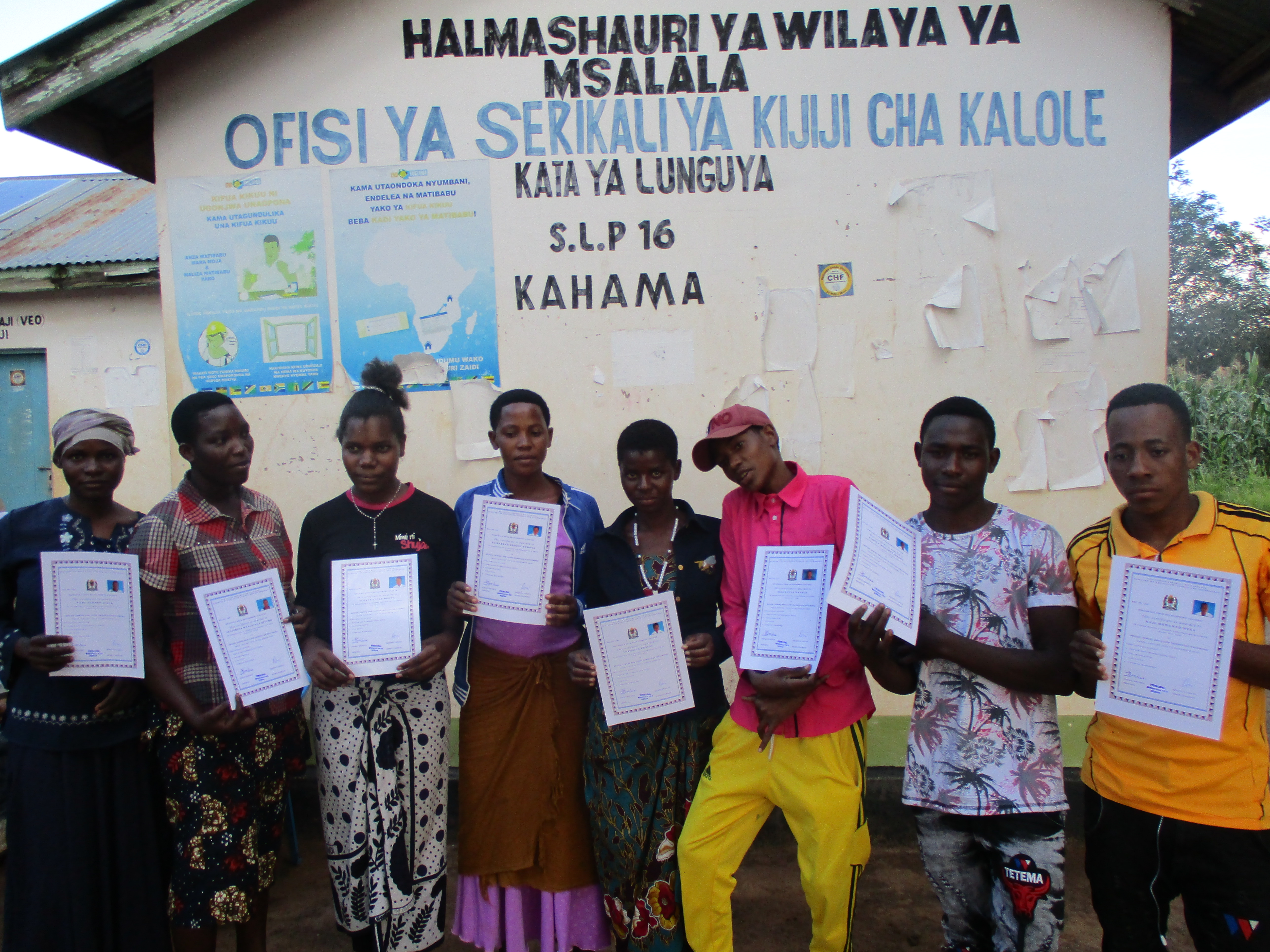 graduated children from vocational training in tailoring, Dec 2019



visiting the children in tailoring course at Mwanhala Focal Development College, Aug/Sep 2019



Boy working at Mwakitoloyo gold mine, close to Kahama, Tanzania.



Children from Mwakitoloyo gold mines during their vocational training in June 2018.

The needs per child is appr. 700€ for the training period of one year. Reports providing transparency over our activity and the education programme will be continuously published on this website.

Donations can be made to:

Triodos Bank
Stichting For Iron I Gave Gold
Haarlemmermeerstraat 90-2
1058 KD Amsterdam


The Netherlands


IBAN: NL28 TRIO 0379 3364 64
SWIFT/BIC: TRIONL2U


We are very thankful for your support!






Homepage About Collaborations Annual Reports Our Details Projects