About

For Iron I Gave Gold foundation has been set up in June 2018 and acts in favour for children living in poverty and to fight child labour. The foundation's goal is to enable the education of children/youths working in artisan gold mines. We focus on the region of Kahama, northern Tanzania, where we collaborate and work closely with the local NGO* Rafiki Social Development Organisation.

The foundation's name** and philosophy is based on keeping a discourse about the re-interpretation of contemporary values and the possible exchange between material, social a.o. values.
Therefore, For Iron I Gave Gold donations are about giving something of value to receive something of different value back: to give a teenager, working in a gold mine, the chance for a better life. Our goal is to provide these youths the necessary education to become independent and to gain sustainability with their new skills.

The foundation has been founded by Antoinette Vonder Muehll who is a Swiss artist and museologist. With her pilot project in 2017, she sold iron rings for the value of gold. The full profit was used for offering 10 youths between 13-17 years old from the gold mine Mwakitolyo to follow a vocational training as tailor or electrician. Some of these iron rings can still be purchased, see more information

here

.



How We Work

We initiate projects related to the history and meaning of values and how we can transform and look at them from different angles. These projects can have had different forms such as objects, events, discussions, a.o. and their profit will be used exclusively for our donation programme. The production/organisation of these objects/projects are 100 percent externally funded/sponsored.



Our donation programme runs through the whole year.
Until 2022, children were selected through a selection process depending on their family situation and willingness to start a vocational training in tailoring/electricity or mechanics. Our partner NGO in Tanzania, Rafiki Social Development Organisation (SDO) conducted the selection through their social workers and in collaboration with the local government. The number of children who could start a training programme of one year depended on the available funds from donations. More detailed facts and figures can be found

here

.
The children started their vocational training in January with 2 evaluation terms through the year. At the end of the education, they will be sufficiently trained to start their own sustainable business. Rafiki follows-up on the graduated children and we support the children's collaboration that can lead to associative/cooperative working groups, sharing their costs.
By the end of 2022, almost 40 youth have been trained in tailoring and electricity.

For 2023, we have launched a new project, in collaboration with Rafiki SDO, Sengerema Foundation and Wilde Ganzen Foundation. Together, we will support the creation of a YBC (Youth Business Centre) in Nyangarata mining village where youth will get tailoring training in tailoring and further will be trained in business and soft skills. Goal is that the youth will run the YBC themselves after 3 years.

*Non Governmental Organisation
**The foundation's name originates from the historical context 'Gold I Gave For Iron' which was one of the original campaign slogans – such as 'Gold gab ich zur Wehr, Eisen nahm ich zur Ehr' (Gold I gave for protection, iron I took as honour) – during the First World War. People of the German state were asked to donate their gold for war material and to support families in need. As a thank you they received iron rings, brooches or medals. A similar event happened in the time of Princess Marianne from Prussia during the war against Napoleon.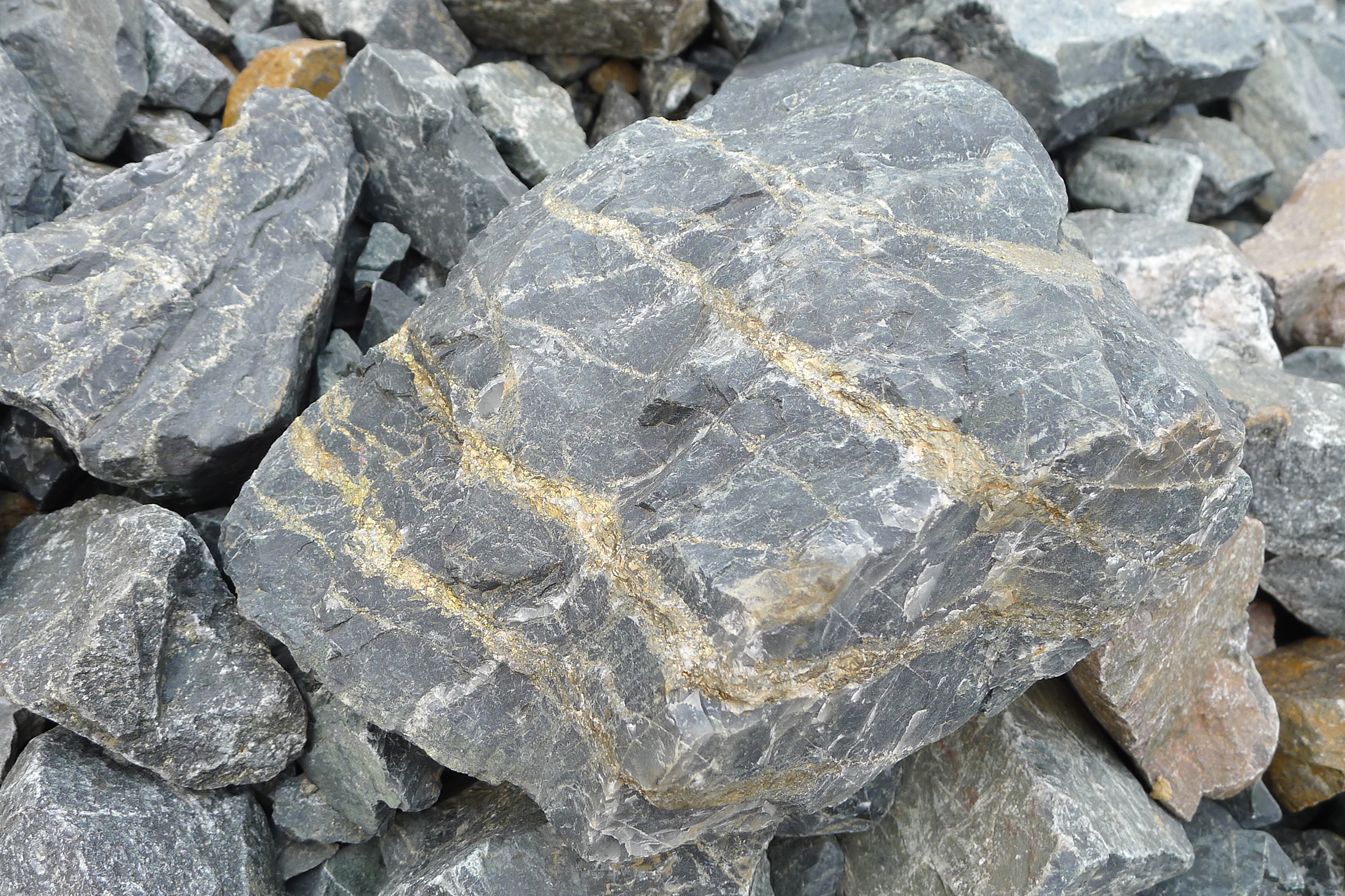 Stone with gold inclusions in a gold mine in Geita, Tanzania.